We have at your disposal the best car towing equipment, at the best price. We are experts in moving, pick up and transportation of cars in Barcelona and surroundings.
Car towing service in Barcelona
If you own a car, it is very likely that you have ever had some kind of problems on the road, either due to damage, an accident or simply the need to move it from one place to another.
In either case you will know that the best option is to hire a car towing service.
car towing service
However, it is difficult to know which option on the market best suits your needs and, of course, at the best price.
In Serinco Cranes, we offer the most complete and economical car towing service in the market, then, we tell you what our services are and what to do to hire them.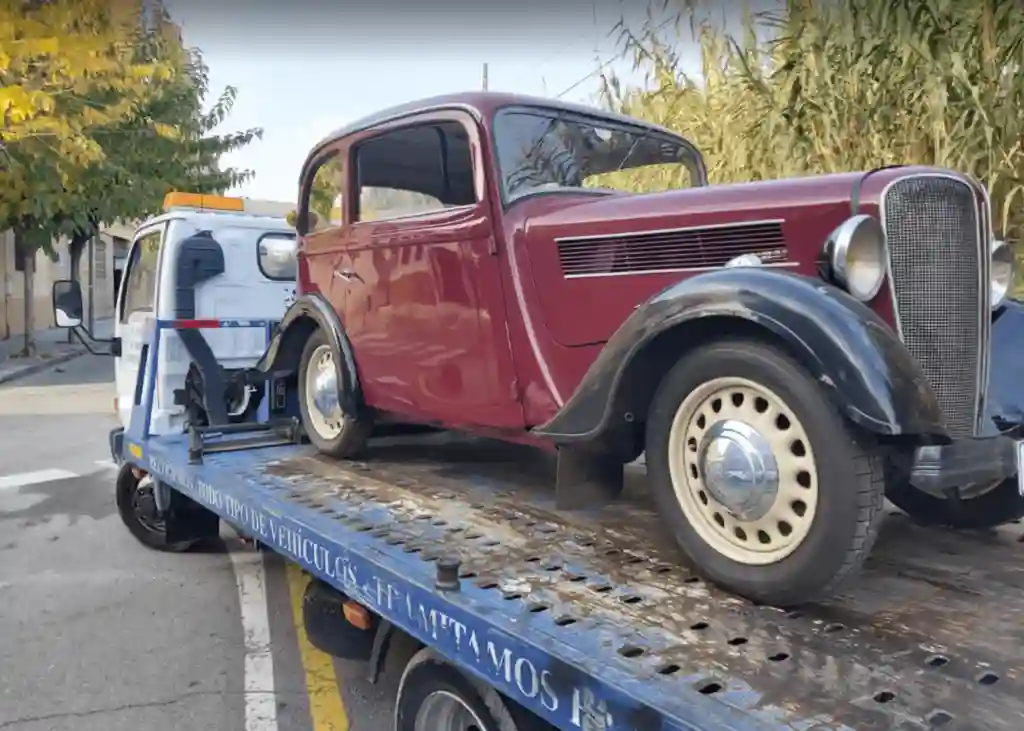 Rescue of crashed vehicles
A roadside breakdown or accident is something that can happen to anyone, at any time. Generally, some auto insurance policies have roadside coverage clauses for these cases, however, this is not the general rule.
Therefore, if your policy is expired or does not include such service, then hiring a vehicle towing service is your only way out. At Serinco Cranes
we transport your car
accident, offering an excellent assistance service 24 hours a day in Barcelona and surroundings.
Rescue of damaged vehicles
In addition to an accident, suffering from breakdowns or unforeseen damage to your car is something that can also give you headaches on the road. Even if you make the necessary revisions or even visit the workshop before leaving on a trip, no one is exempt from having their car stop working just like that.
Problems related to the battery or engine, blocked wheels or electrical failures may force you to seek assistance to move your car. Whatever your case is, in Grúas Serinco we will help you immediately, we will help you to put your vehicle back on the road with clamps or, we will simply rescue you with our towing crane vehicle towingwherever you are, even in those places of difficult access.
Transfer and pick-up of cars
Although it is the most common, a car tow truck is not only useful when a damage or accident occurs. On the other hand, it is very likely that if you need to ship a car to another city, or if you need to put it on board a ship or ferry, you will also need to hire a car tow truck.
For each of these cases Grúas Serinco has a set of specialized services that will allow you to be more relaxed when moving your car from one city to another.
On the other hand, if what you need is the collection of your car in places like depots and parking lots, or if you need someone to take care of it in order to deregister it at the DGT. In Serinco Cranes we have the maximum experience to manage this type of situations and with the best price for car transportation.
We are experts in processing these cancellations, and additionally, we send your car to the scrapyard, without it having to be a nightmare for you.
Grúas Serinco is a company specialized in towing services and roadside assistance. We put at your disposal the best team of people and cranes to provide you with the best quality assistance adapted to your immediate needs.
Our main goal is to provide you with a great service, that's why it doesn't matter the time or the place where you are. We assist you 24 hours a day, in an agile, fast and effective way.
By contracting our car transportation services, you immediately solve your road accident situation at the best price. And if you need other services, you can avoid the risks of driving long distances to move your car, or unnecessary expenses for fuel, tolls or other formalities.
How to hire a car towing service?
If you are looking for the best
car towing service
in Barcelona and surroundings, contact us and ask for your free quote now.
In Grúas Serinco you will find the best value for money in the service of vehicle transportation with assistance to individuals and professionals, in addition, an experienced company that will guarantee safety, efficiency and quality. Request your quote now.